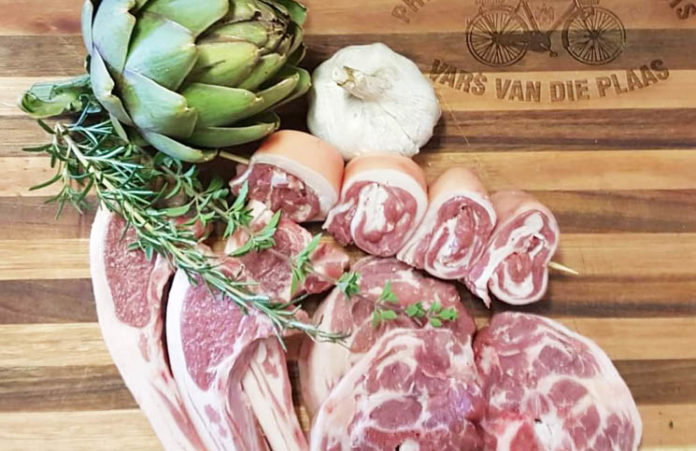 History takes us back to around 1916-17 when a young Std 2 scholar, George Erhard Hendriksz, bid his school days farewell. Together with his mother, Francis, the business started when they slaughtered a cow under a tree, then processing and selling the meat.
The foundation was laid of what was to become a very successful business.
As time passed, the Hendriksz Butchery established itself firmly in Stellenbosch becoming the Butchery of choice.
The young George, or Boet as he was affectionately known, introduced a bicycle delivery service for the daily delivery of fresh meat to his clients.
He would rise as early as 2 am, do the slaughtering and preparation required for the daily orders and still deliver the same morning! Eventually he obtained the butchery account of The Old Victorian College, today known as the University of Stellenbosch, supplying meat to feed 503 students and 40 lecturing staff.
In those early days, George experimented with Boerewors. He produced the Hendriksz Boerewors, with its unique spice mix and meat/fat ratio, which until today is still a well-guarded secret.
This legacy continues in Durbanville by his maternal grandson. George Erhard Hendriksz Louw, is the owner and driving force behind the success of Phisantekraal Butchery, which is situated on Klein-Phisantekraal, a farm owned by the Louw family for more than a century.
He realised a dream in June 2010, obtaining the necessary licences, he started small with 3 butchery staff, today boasting a staff complement of 6.
The butchery logo continues the tradition of his grandfather's delivery method – the Bicycle. In the centre is the Louw crest, placed in the position where his grandfather had his address and butchery name. This signifies the symbiosis of the Hendriksz and Louw families. The green at the bottom of the logo advocates sustainable and eco-friendly farming practices.
The main farming on Klein-Phisantekraal is built around the vineyard and the cultivation of wine grapes. These grapes are delivered to various cellars, mainly Spier and DGB Cellars. He also sows small grains such as Oats and Triticale, a hybrid of Wheat – hay oats being marketed for horse feed and triticale sown for vine fertilization.
The dam on Phisantekraal farm is a decided asset irrigating about 46 hectares of land. The campsite alongside the dam, Taaibosch, is in a superb setting and serves as a day camp and team building facility for schools and other institutions. It can also be hired for private functions. Contact 072 300 7564.
Phisantekraal Butchery sets the tone for excellent savings when purchasing a whole carcass rather than pre-packed cuts. For example, the saving in purchasing an A2 Lamb carcass of 24.5kg, cut and packaged as per client request, against purchasing the high-end cuts is approximately R775 and then there's still nearly 7kg stew meat left for Potjiekos. These figures are calculated at the present rate of R125/kg.
At the start of the butchery, Phisantekraal reared its own lambs, slaughtering on average 75 per month. But, when drought hit, this was no longer viable. Meat is now acquired from reputable wholesalers who use accredited abattoirs. Erhard has a motto for continued success of the butchery, that being, "To ensure our existence in today's economic climate, I believe in a low profit margin but high sales volume."
Phisantekraal Butchery are suppliers to a number of outlets, viz. Agrimark Durbanville and Paarl, OK Minimark Durbanville, various Coffee Shops and of course the public are most welcome at the farm. Erhard is proud of the quality of his product and stocks aged Beef, such as Rump, Sirloin and Rib-eye.
The now famous Hendriksz Boerewors is produced on a daily basis to satisfy the overwhelming demand. The Kaaswors was introduced some time ago and has become nearly as popular. Bacon is cured and smoked on-site, ensuring a unique woody flavour.
Special cuts are done on request by the Butchery Manager, Peter Wilkens. The Biltong and Dry Wors as well as the Salami Sticks are a firm favourite for snacks. The comprehensive product and price list can be viewed on the website, www.phisantekraal.co.za.
For more info and regular updates on new products as well as handy tips, follow the Phisantekraal Slaghuis/Butchery page on Facebook. Orders can be placed by calling 021-975 9366 or via email on slaghuis@phisantekraal.co.za.
Trading hours: Monday to Friday 08h00 until 17h00, the first and last Saturday of every month 08h00 until 13h00.